REAL ESTATE EXPERIENCE LIVE: RPAC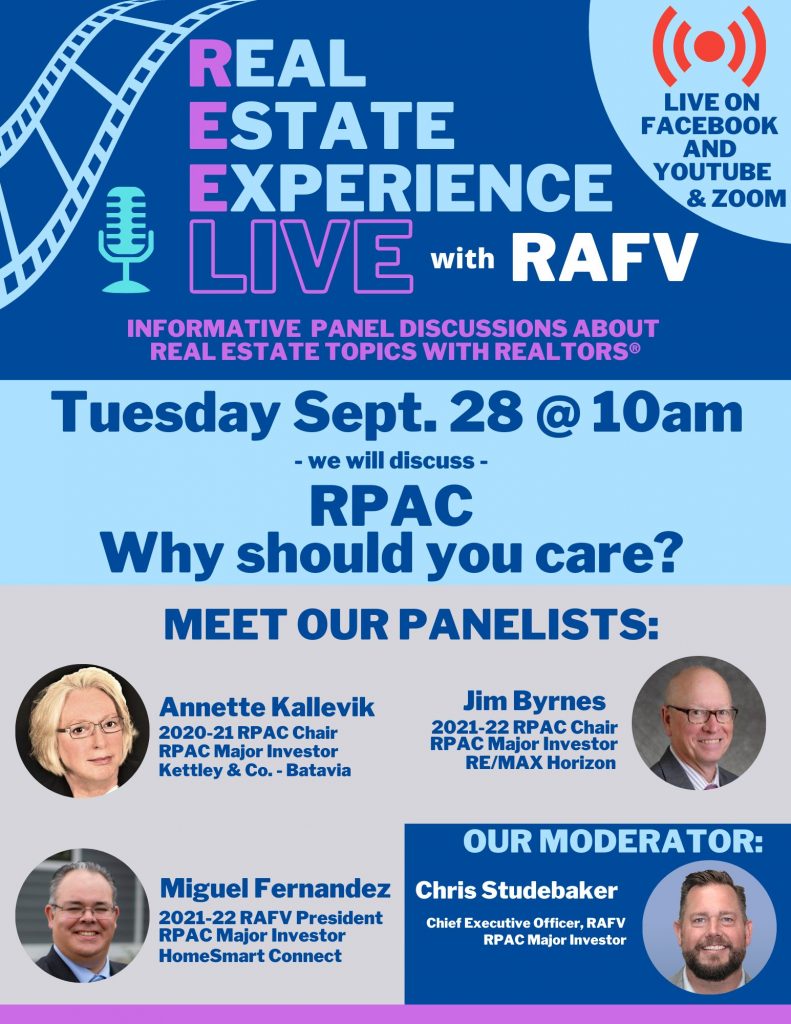 RPAC stands for REALTOR® Political Action Committee. RPAC was founded so through contributions from volunteer REALTORS® we can work to elect candidates who understand the needs of REALTORS®. Promoting and raising funds is an important way to help boost and protect our industry. Join us via ZOOM, Facebook or YouTube to talk about the importance of RPAC and how it affects us and our industry.
Meet our guests:
Miguel Fernandez – 2021-22 RAFV President and RPAC Major Investor
Jim Byrnes – 2021-22 RPAC Committee Chairperson and RPAC Major Investor
Annette Kallevik – 2020-21 RPAC Committee Chairperson and RPAC Major Investor
Moderator: Chris Studebaker – RAFV CEO and RPAC Major Investor
Some questions that will be answered:
What is RPAC?
Why is RPAC important for REALTORS®
Is this a donation or Investment? Please explain.
What are some things that RPAC has done lately to help homeowners and in-turn REALTORS®?
Why do they need funding? What do they do with the money that is donated?
Is this a political thing?
Talk about your personal involvement with RPAC?
What does being a Major Investor mean?
How is the allocation of RPAC dollars made? Who decides on who gets the money?