We will use this space on our website to offer you the most up-to date information on COVID-19 and how it affects RAFV, the real estate market and independent and small business owners. Newest information will be in RED.  Please scroll down to see all information.
If there is something you would like information on that you don't see here, please contact Lisa Ayres.
NEWEST INFORMATION - updated 4/6/20
HOW DO I FILE FOR UNEMPLOYMENT IN ILLINOIS?
Go to the IDES website. https://www2.illinois.gov/ides/aboutides/Pages/10%20Things%20You%20Should%20Know.aspx
READ THROUGH "10 Things You Should Know".
Click the box saying that you read the information about payment methods - direct deposit vs. a debit card.
Then click the button – FILE YOUR CLAIM and that should take you through the process.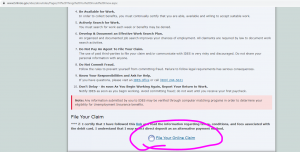 INFORMATION ABOUT SBA CARES ACT
The CARES Act appropriates more than $360 billion total for new Small Business Administration (SBA) programs - the 7(a) Paycheck Protection Program loans and the Economic Injury Disaster Loans (EIDL) advance grants program.
Provided in the link below are a number of Q&As to address frequent questions about who is eligible and how to apply for these brand new programs created by the Administration. We continue to learn more about these relief measures daily and will update this document as events warrant.
MOST POPULAR QUESTION:
5. How and when can I apply for an SBA 7(a) PPP loan?
Starting April 3, 2020, small businesses and sole proprietorships can apply for SBA 7(a) PPP loans. Starting April 10, 2020, independent contractors and self-employed individuals can apply. We encourage you to apply as quickly as you can because there is a funding cap.
Please visit the Treasury Department's application form for the SBA 7(a) PPP loans released on March 31.
NATIONAL ASSOCIATION OF REALTORS® UPDATES
GREAT INFO! NAR FAQs on Unemployment Assistance in the CARES Act
Released 4/1/20:  Treasury Releases SBA 7(a) Paycheck Protection Program Loan Application; Applications open 4/3 and 4/10
NAR Funds 2 Months of Member TeleHealth Services to NAR Members
NAR Weekly Coronavirus Update
This communication from NAR to all Members describes the many ways NAR is working to guide and support REALTORS® and the real estate industry during the coronavirus (COVID-19) pandemic. Every week, you'll find up-to-date, relevant information on how to ensure your health and safety, the virus' impact on the economy and your business, its impact on NAR activities, and what NAR is doing to help.

NAR's WEEKLY PIVOT IN PLACE SERIES
Mabél Guzmán: A Strategy for Virtual Showings During COVID-1
March 30, 2020
Mabél Guzmán, NAR's 2020 VP of Association Affairs, shares her extensive experience with virtual showings. Learn three key tips to help your business pivot to a virtual experience, remain effective, and keep your clients well informed.
Next Week: Christine Hansen talks about emotional well-being. 
March 23, 2020  A Special Message From NAR President, Vince Malta  Play Video HERE
OTHER ARTICLES:
Coronavirus - A Guide For REALTORS® - This is a living document so check back often
NAR Coronavirus Resources for Property Owners
NAR Open House Guidelines for REALTORS® During COVID-19
Sample Preparedness Plan for Brokerages Relating to COVID-19
NAR to Deliver Virtual Solutions for 2020 Realtors® Legislative Meetings & Trade Expo
Coronavirus Emergency Legislation: What REALTORS® Need to Know
Impact of H.R. 6201 "Families First Coronavirus Response Act" on NAR Members
ILLLINOIS REALTORS® UPDATES
RAFV INFORMATION REGARDING COVID-19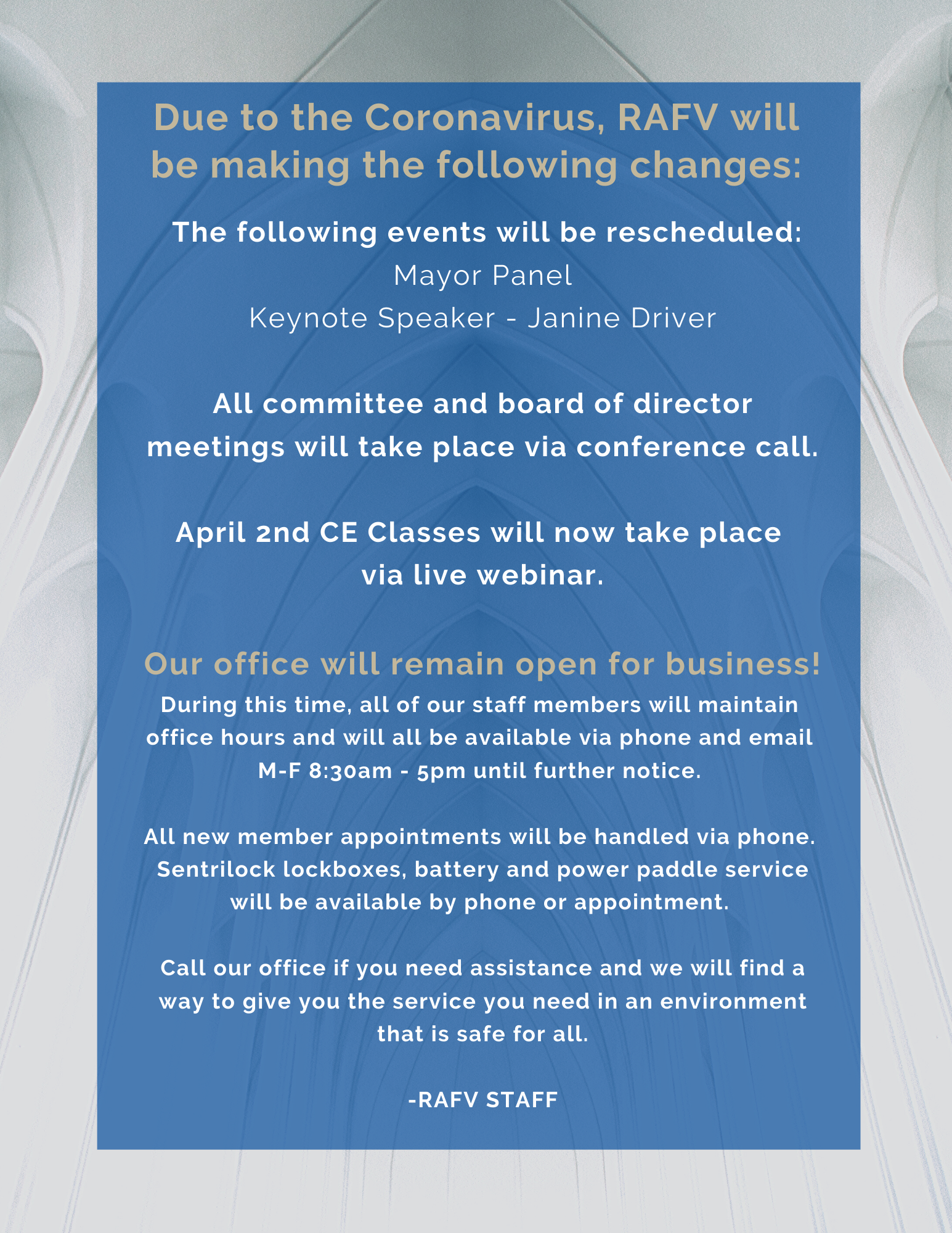 Click HERE for the recording of the DR Webinar on 3-27-20
RAFV Stay At Home Order Information and RAFV Office Info - 3.20.20